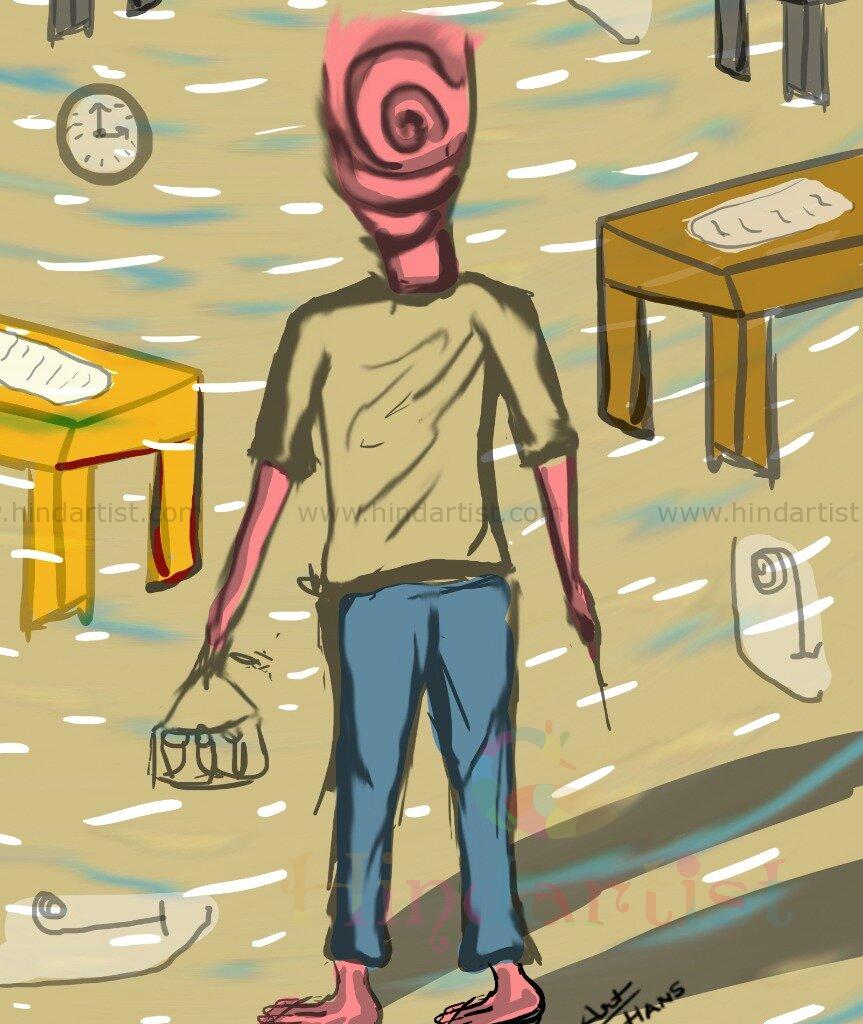 Stunning/ Kamaal
writer/ Des raj kali
Story of Stunning-men:- As soon as the bell of the first period rang, the peon was walking towards me carrying the register, I could smell the rat …, there must be some duty ….., thinking I got bent out of shape ….
"How are you doing? Jaspal ji" I said looking at the expression on his face ….
"I'm just fine Madam ji. Like a bull on the oil-mill I'm rooted to the spot though I'm running about all day long. There is no respite even for a minute. I haven't even had my morning tea yet …" said Jaspal, putting the register in front of me.
"What is this?" I said looking for my name in the register.
"This Madam ji, is regarding some votes, you also have been put on a duty …." Jaspal said, putting weight from one foot to the other.
"It was worrisome, but let's see, I will try to get it cut by telling someone," thinking I sign on the register within the box in front of my name.
"You signed it so quietly Madam ji! Many madams just get after me …. I always have to face the music …. as if I've put them on duty …., We are slaves to the order, we do whatever the Principal commands us to do," he kept on speaking after closing and clutching the register under his arm.
Otherwise, Jaspal was a very calm and gentle peon; there must have been something that happened today that made him irritated. Poor Jaspal! Fulfilling the demands of the Principal and teachers all day long.
In fact, our system is such that anybody has the power to say whatever they want to, without looking into right or wrong to the lower-ranking employees. Distracting myself from the pathetic stature of Jaspal, I took him to the canteen.
"Do one thing Jaspal ji, ask for two cups of tea, but with less sugar for me … the other one you drink … get the payment written in my account," I said dragging the chair in the shade.
Who pays for a cup of tea in the canteen every day …. Everyone's account was opened, after every fifteen or twenty days Meshi, the Canteen boy would collect the money. Sometimes a couple of extra cups would be added …. God knows! He is a poor man, and has to look after his family too …. Moreover the government school students never bring more money … to spend ….
The makeshift canteen was housed in a hole in the wall room in the ground on the backside of the school, and at a little distance from it in a staff quarter the mid-day meal used to be prepared.
What would the poor government do, provide free education, provide scholarships to the scheduled castes, feed the children mid-day meal, repair buildings, or build bathrooms, … all this work rested on the shoulders of the teachers. Looking at the education budget of the government one cannot feel impressed …. In fact, the expenses of the leaders are so much that nothing is left for the common man. Expenditure on education is not a priority of the state government …. Anyway corrupt leaders can only get votes from illiterate people, if voters become educated and wise, even if they are children today, but tomorrow they are the vote banks …. To seize power raise the slogan of service and not the rule … then loot the people for five years; the people readily bring the sheep and get the wool removed and also give the votes.
"Take me with you," Rajwant sat near me after ordering the tea and pulling a chair near me. Jaspal had already had a cup of tea and had left. With the arrival of Rajwant my line of thought was also broken.
"Oh it is really very nice, with you it will be a great time-pass," I laughed and looked into her cat-eyes.
Rajwant was a lecturer with me and we got along well. It was in our nature to help each other or take each other's classes when needed.
I affectionately called Rajwant "Billo". Darling's eyes were green hued, but they were like that of a cat …. Tall, robust body, cheerful face, and magnetic ever smiling eyes … would attract everyone to her. Open extrovert nature and the sweet gesture of telling jokes … kept the atmosphere pleasant. In the mutual group of friends made on mobile, texting, laughing, playing around, and sharing about our students; one never knew when the day ended …. But on the day when Rajwant did not come the day would seem very long, time would just stand still. How many times a day I would remember her.
"If I were to get lost … didn't wish to go, because of you I agreed; otherwise you know I don't like anything other than teaching … and may God protect us from these useless duties," said Rajwant while standing up to leave.
"Oh, it's eleven o'clock, where are we going?" looking at the clock, I also stood up in haste.
"To the office of the SDM …. But on Saturdays and Sundays the ladies' housework is not finished, and I have to go to a wedding too, may we not let go off our duty …" Rajwant said while walking and speaking face to face.
"Let's see, SDM is an acquaintance of my husband … we will try …." I said encouraging her.
Telling the principal, after registering in the movement register, we both walk towards the car. The car standing under the sparkling sun was an oven …. Lowering the glass of the car, putting on the A.C. on full speed with old hindi songs, I turned the car towards S.D.M's office.
There was a lot of crowd outside the office, it seemed very strange to go among so many people, the heat of staring eyes kept stinging the body for a long time. We climbed the office stairs to escape the crowd. No matter how much you save, knowingly or unknowingly some unpleasant touch makes the mind uncomfortable.
After reading the nameplate, we hurried to the door of the office and the peon said instantly, "What's the matter? Sahab has gone out."
"We were called for duty," said Rajwant in a fit of pique.
"Oho, why did you come here? The duties would have been known from the committee's office itself. Madam, you go to the committee's office and meet the supervisor there. From there you will get the voting material and lists," said a frail looking clerk who saw us and got up from his seat.
"But the address of the SDM office was written on the letter," Rajwant spoke with displeasure.
"It was written by mistake but you have to go to the committee office to know about the duty," the clerk said stubbornly.
I really wished for once to rant at this bad clerk, about how much time we had wasted because of this office mistake …. but to avoid losing my cool, controlling my anger just seemed appropriate.
I was angry at the whole system. The government also sees only the teachers as idle, no matter whatever work they are doing, even non-teaching …. Assembly votes, census, be it getting a count of school going and non-school going children of six to fourteen years under the Sarva-Shiksha Abhiyan or even pulse polio; there is always an imposition in regard to the duty of teachers. What say do the teachers have, hiring on the contract, reduce their salaries, powerless teachers keeping fast unto death to get permanent after serving for many years, climbing on tanks, setting themselves on fire; all methods have been adopted …. but to the sheer agony of things the government had not paid any heed.
Even the academies force teachers to come to literary programmes …. because they give jobs, have to show the crowd too …. they invite helpless teachers for evening programmes, poor hunger-stricken children at home wait for their mothers …. what should we do, we get hold of a job with great toil …. there is no choice in service ….
Tough Lord! …. Even when a Chief Minister or a Minister has to come, the teachers are loaded in trucks as the crowd has to gather. The District Education Officers have special duties for this purpose.
This is not the only thing, beautiful ladies are selected to present flowers to the guests on the stage and to light the lamps. Beautiful sarees and the edges of dupattas floating in the air soothe the eyes of the guests. Why shouldn't it be practised as beauty makes everyone happy. Climbing down the stairs, making my way through the crowd, I was thinking aloud. Even Billo pulled a long face. Even after fastening her car seat-belt, Rajwant's mood had not improved.
"Don't worry Billo! No worries … we'll go to the committee office," I said while passing on a bottle of water to her.
"Come on my butterball! Now take us to the committee office …" Sometimes I would talk like this to my car ….
Car bought on instalments was greatly taken care of by me. After all, the committee's office was close to our school. Now I had to go back to that very side. It was an extra round, the SDM's office was at the other end of the city. How expensive petrol has become …. The car also had to be driven with frugality. Even though we are in government service, who would pay a TA for such a duty? Here you have to spend from your own pocket while giving exams or flying duties too … even if one fills in the required amount of bills, they are never to be cleared.
"Oh, the condition of government offices is also bad … now the itch has become extra …. Are we idle! …. The house tests are at hand, without revision the children will not pass," Rajwant was regretting missing the classes.
"Let's go buddy now, let me take you on a tour of the committee office …." I remark to set Rajwant's mood right.
Seeing no response, I addressed her again, "O Billo Rani! In which calculations are you stuck, don't worry! We will find a jugaad, you go and see the wedding …."
"Not at all dear, I'm not into any calculations; they are just wasting our time. Unnecesary harassment …," Rajwant said, taking a deep breath.
There was a lot of crowd in front of the committee office …. They must be teachers like us …. Guessing in my mind I locked the car, picked up my purse and tried to find the office board. The office was on the second floor and here too people were going up and down the narrow stairs. We finally found the supervisor's room.
Seeing the meek look of the supervisor, I was hopeful that maybe he can find a solution to our problem ….
"Yes, tell me? How did you come?" He asked, examining us with his eyes.
"Sir, we have been put on a duty, on Sunday, to refine the electoral rolls, but that day there is a sports day at my children's school and a close relative of Rajwant ji is getting married. It is our request … if our duty is cancelled …." I stopped in between the talk and tried to check his facial expressions.
"You know, sir, relatives don't understand the compulsion of a person in a job, they just need an excuse to get angry …" Rajwant said while looking directly into his eyes and adding to my request.
He gave us a sign to sit down and started flipping through the list. After scrutinizing, he shook his head in denial and said, "Madam, it is a very difficult task to cancel your duty; since morning so many officers have been calling …. Everyone is making recommendations to get the duties cancelled …. Whose recommendation should we follow? …. Failure in government duty means direct suspension."
After pausing for a moment, he was probably trying to read our gestures.
"Sir, we have no recommendation, it's a compulsion, otherwise we wouldn't have bothered you, you just have to slightly make a stroke of pen and it will be a great relief for us …. If you wish anything can happen," Rajwant said, trying to smile.
Rajwant's words had an effect on him and once he glanced at the list he said, "I understand your compulsion madam! …. Anyway all I can do is if you give me another substitute in your place then we can see to it …. But, we have strict instructions from above not to cut anyone's duty."
"Thanks sir!" It came out of our mouth's together.
"Okay sir, we will bring two people with us tomorrow to do our duty. Thanks once again …." saying this we lifted the curtain of the door and came out.
The very next day at about ten o'clock in the morning we got a letter from the principal and left with Raji and Hardeep laughing and joking. Raji was a naive library restorer with a simple look … many things otherwise too were beyond her comprehension. Everyone would make fun of her and she wouldn't even get angry at anyone's remarks …. On the other hand, Hardeep was just as clever, the idiom 'having oneself over a barrel' was so true to her nature. Simple in appearance, sweet tongued but would not let anyone win in the war of words. She was loved by all the male members of the school. Often someone would sit in the library to talk to her. After all, how many children do study in government school libraries!, hence the librarian Hardeep would just take her customary round.
"What do we have to do there?" Raji had asked while sitting in the car.
"What is to be done? Just give duty from nine in the morning to six in the evening … do as is told by them," commenting Hardeep laughs jokingly. Recognizing her tongue in cheek tone, Rajwant and I could not help laughing.
Our continuous talks had given us no sense of the road. We parked the car in the parking lot and climbed up the stairs of the committee office. We were petrified to hear an angry voice inside. Due to the curtain in front of the door, the view inside was not visible.
"What do you understand? The duty imposed by the government is a joke. Do you know how strict the government offices are nowadays, orders of suspension are issued immediately due to non-compliance or slight negligence," the loud voice of the supervisor was coming till outside.
"Sir, my humble request is that on Sunday is my daughter's shagun, I have persuaded someone else to do the duty in my place …. Sir, I put my hands together for you, please change my duty," a very slightly humbled voice came.
"Like this anyone will come with a request, how many duties would we adjust when it's a government order. I cannot do anything. Go and get the voting material from the clerk. Don't waste my time," he spoke in a hard but sober tone. Perhaps he was aware of our presence.
Lifting the curtain aside two anxious, frustrated, and sad faces walked towards the clerk's room. Listening to the conversation inside, our spirits were also low. We all look at each other's faces …. no one had enough courage to go inside.
Seeing the hesitation of the three of them, I bravely signal Billo to go inside first. At the same time I moved aside the curtain and smiled, and said "Sat Sri Akal, Sir!" looking at the supervisor's face.
Correcting the frown on his forehead, he replied with a smile and gestured to sit down. I also ask Raji and Hardeep to come inside. Judging by the expression on his face, I wonder whether he was the same person who was talking loudly a while ago.
"Tell me, madam! How are you? Finally you brought them as a substitute in your place for duty?" His eyes seemed to be inspecting all four of us. At the same time he rang the bell and asked the peon to fetch water.
"Sir, she is Hardeep ji and she is Raji ji," I said introducing them. "They are willing to do the duty in our place. We have also brought it in writing from the principal," I said, placing the letter signed by the principal in front of him. I kicked Rajwant and gestured to her to speak.
"It's hard, sir, but we know you can adjust if you want" Rajwant said laughing slowly while rolling her cat eyes and gaping at his face.
"You understand my situation very well … but you've asked me to do something for the first time, will see."
He also urged the peon who had brought water to bring the tea.
"No, no, sir, what is the need for tea," said Hardeep, joining the conversation.
"Oh madam, what chance do we get daily to serve tea to ladies like you, and moreover in that time all the paperwork would be done," he said while looking at Rajwant.
"Sir, you will be busy, and other people are standing outside to meet you," I asked to get rid of him.
"Why worry about it, this is the work of the whole day, the dog's life is daily business, tell me more …?" he asked, getting comfortable on his chair.
In the meanwhile the peon brought tea and the conversation stopped. While drinking tea, the supervisor also instructed the clerk to prepare a new list.
The clerk immediately changed the names and put the new list on the table.
Extending the list to us, he started saying, "Take it, your work is done …. Now you can relax and enjoy your family engagements. Still, if there is any work, don't hesitate, come without hesitation," he said while handing over his business card to Rajwant with a massive spread of a tenacious smile.
"Thank you sir," I said happily and gratefully.
"You solved our biggest problem," Rajwant said in a lighthearted mirth while grabbing the card and putting it in her purse.
Saying Sat Sri Akal, the four of us came out. The crowd standing outside was looking at our faces. As we descended the stairs, we could barely contain our laughter. Going down the stairs, we were into fits of laughter. We looked at each other's faces and laughed again.
"Was this the only work?" Raji asked innocently.
"Hmm, how was it Billo! Poor supervisor …." Now every time for some reason or the other he will send your name for duty, so that he can offer you tea under the pretext of cancelling your duty," I teased her while starting the car.
"Wasn't it 'stunning' …" Rajwant said laughing mischievously.
"Really lady, you did a great job …. What stuff is this poor supervisor … stung of those stunning eyes …. Would also serve tea along with water …," I taunted in amusement.